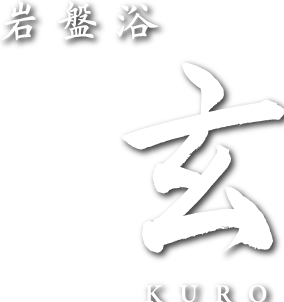 Information on Bedrock Sauna "KURO"
We prepared two kinds of bedrock baths and a cool down room,
We will support your healing time.
Using carefully selected high quality natural stone, I was particular about sweating. You can also control the temperature, humidity and ventilation so as to realize sweating while reducing the burden on your skin, you can feel the effects of rock bathing on your skin even for the first time.
Ming Bao stone has been prized as a stone medicine since ancient China. In addition to containing a lot of minerals, it adds a lot of far infrared rays and minus ions when it is applied heat, it brings out exceptional perspiration and beautiful skin effect.
Cozy wind-dedicated room with comfortable wind. By chilling the body warmed around the muscle, it contracts the blood vessel, and it also stimulates the skin cells to activate the skin. Please use at an appropriate interval.
To enhance perspiration action, it is a point to change the body alternately, such as supine, lying down.
By breathing slowly, the thermal effect of the autonomic nervous system becomes higher. In addition, occasional hydration is essential.
Please moderately use the cold air tress, please put a break with water.
Fee: 500 yen (50 minutes)
Bathing rock & large towel rental included
営業/11:00~20:00
(最終受付19:00)
We are selling bonus tickets (good ticket: 11 sheets spelling 5,000 yen) only for members.
Use of bedrock bath is for junior high school students.
Rock bed time guide
1st time 11:00~11:50
2nd time 12:00~12:50
3rd time 13:00~13:50
4th time 14:00~14:50
5th time 15:00~15:50
6th time 16:00~16:50
7th time 17:00~17:50
8th time 18:00~18:50
9th time 19:00~19: 50
(19:00最終受付)