Kotaki runs through the trees, full of nostalgia "Sawa no yu".
With the emotion, you can enjoy a plentiful sea view.



Open-air bath "TANADA" which produces a harmonious sum space with the ridges of the stones.
The calm wind and beautiful scenery in Setouchi will heal your heart.



Open-air bath "SAWA" and Open-air bath "TANADA" each with different taste,
Such as "TOUKI BURO" of hanging out and "KAZE NO YUBUNE" feeling the sea breeze,
We also have various bath tubs for enjoyment.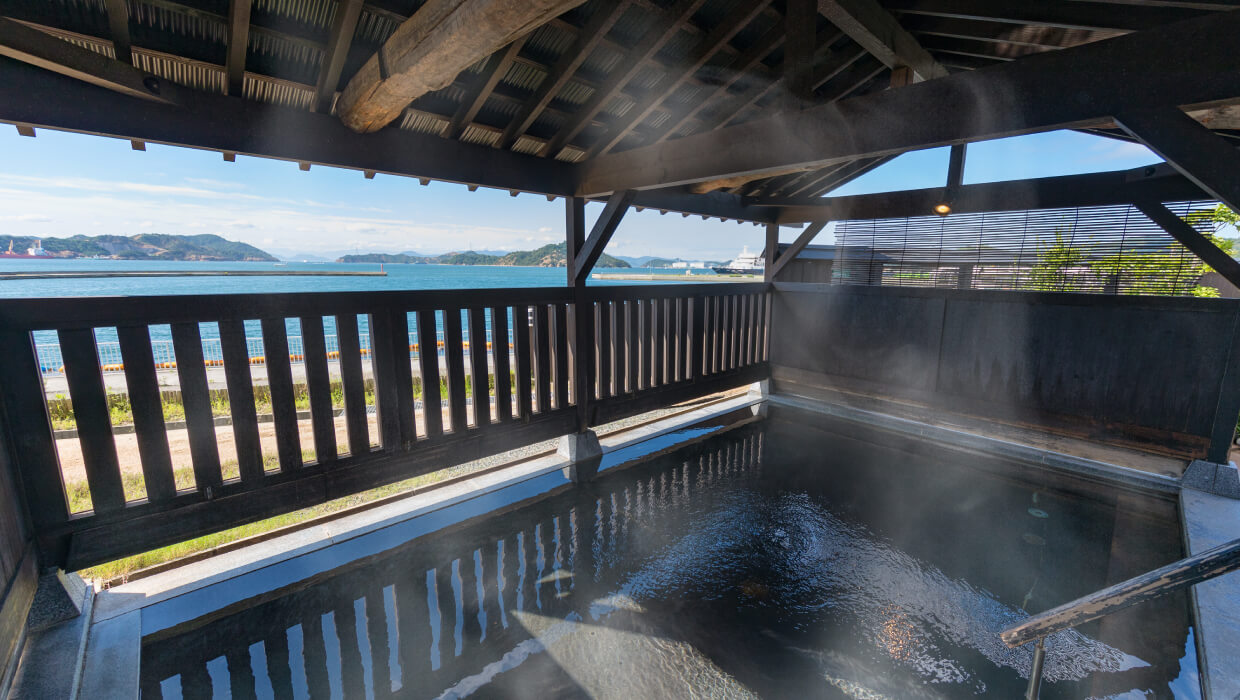 A hot spring feeling the wind
KAZE NO YUBUNE
The bathtub nearest to the ocean is a "KAZE NO YUBUNE".
You can enjoy bathing while feeling the sea breeze.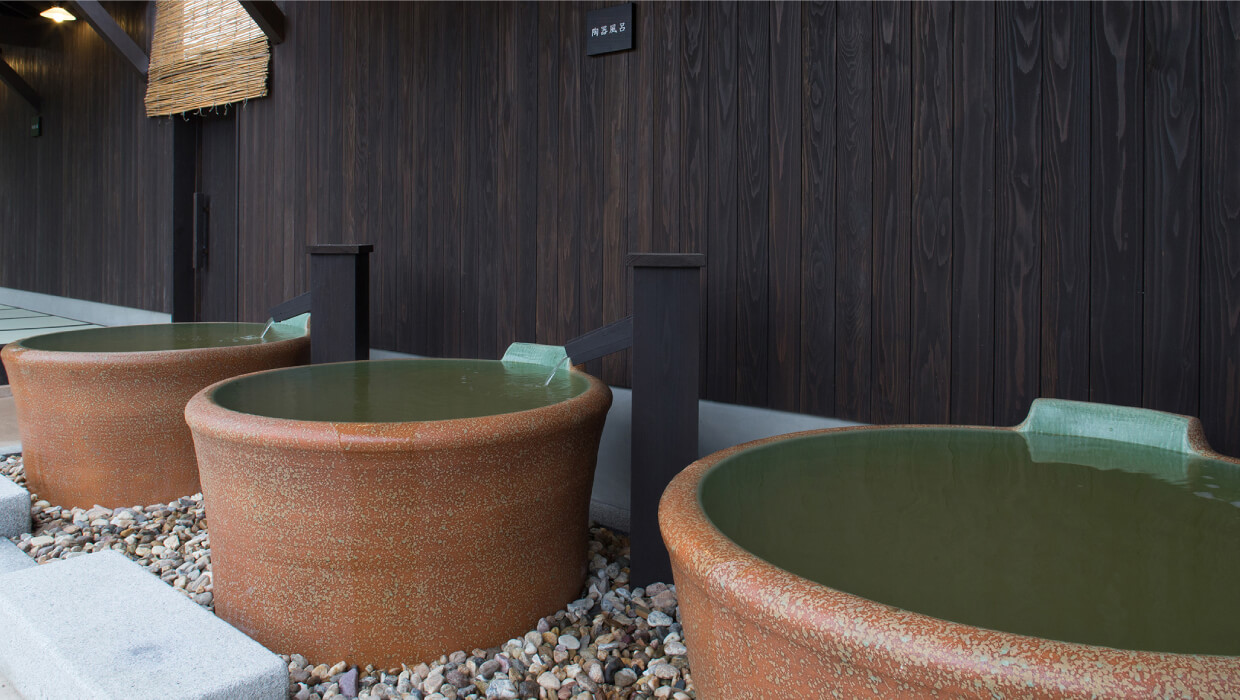 Pottery bath
TOUKI BURO
"TOUKI BURO" using Shigaraki pottery.
There are three bathtubs in each bath and you can enjoy hot-spring water.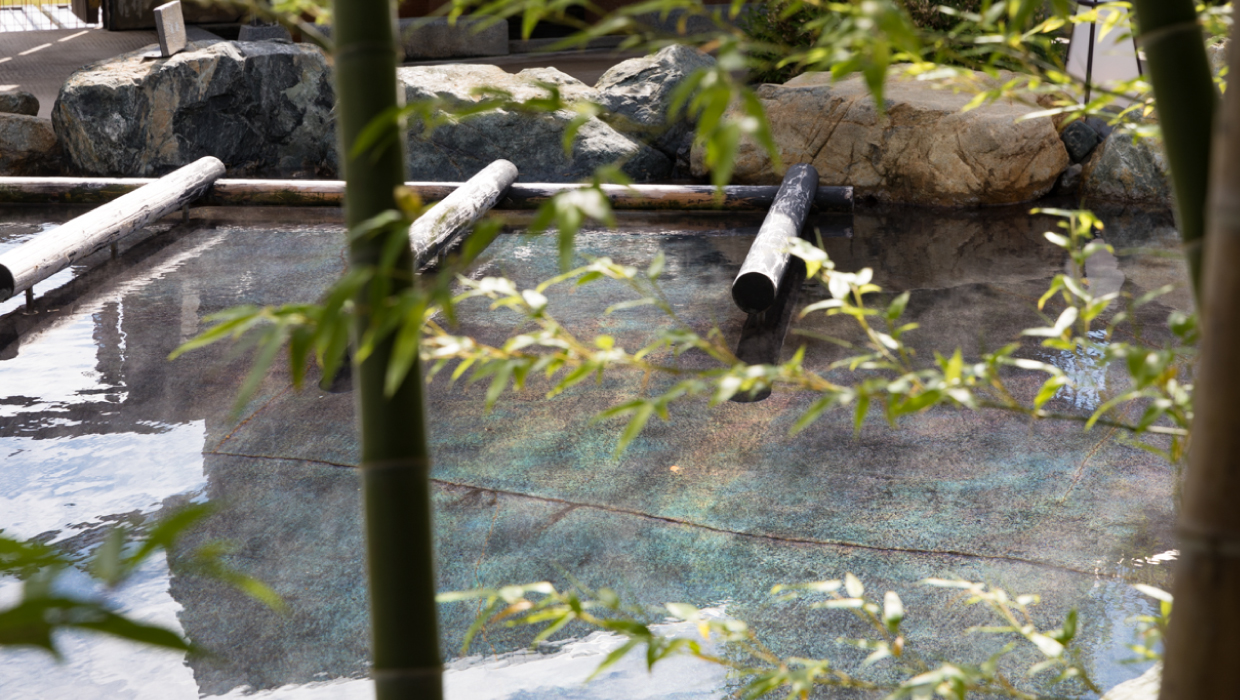 To take a bath while lying
NEYU
Enclose the surrounding with granite, lengthen your limbs and lie down,You can relax by entrusting your body to hot water.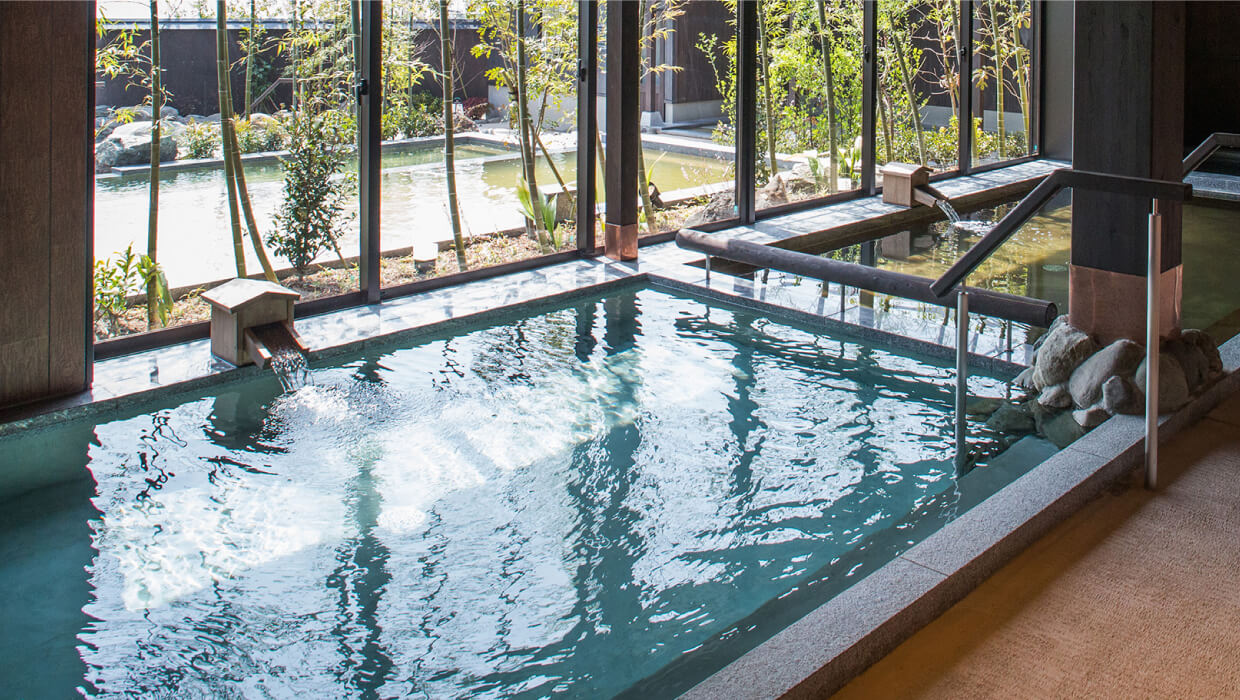 Inside hot spring
UCHIBURO
High temperature bath is clean water, low temperature bath isYou can enjoy natural hot springs.
~ Fountain quality / efficacy ~
Calcium · sodium chloride fountain, "Moist warm water" with high moisturizing and heat retention effect.
It contains a valuable radon ingredient nationwide and is also called "hot water of all sorts", it is an excellent treatment fount of efficacy.
The main indications are gout, arteriosclerosis, hypertension, crackling, burns and so on.
Information on changing bathrooms
~ Exchange every Monday ~
| | | |
| --- | --- | --- |
| 9月 | Open-air bath "TANADA" | Open-air bath "SAWA" |
| 13日〜19日 | 女湯 | 男湯 |
| 20日〜26日 | 男湯 | 女湯 |
| 27日〜30日 | 女湯 | 男湯 |
| | | |
| --- | --- | --- |
| 10月 | Open-air bath "TANADA" | Open-air bath "SAWA" |
| 1日~3日 | 女湯 | 男湯 |
| 4日〜10日 | 男湯 | 女湯 |
| 11日〜17日 | 女湯 | 男湯 |
| 18日〜24日 | 男湯 | 女湯 |
| 25日〜31日 | 女湯 | 男湯 |
* Bathrooms are subject to change due to circumstances.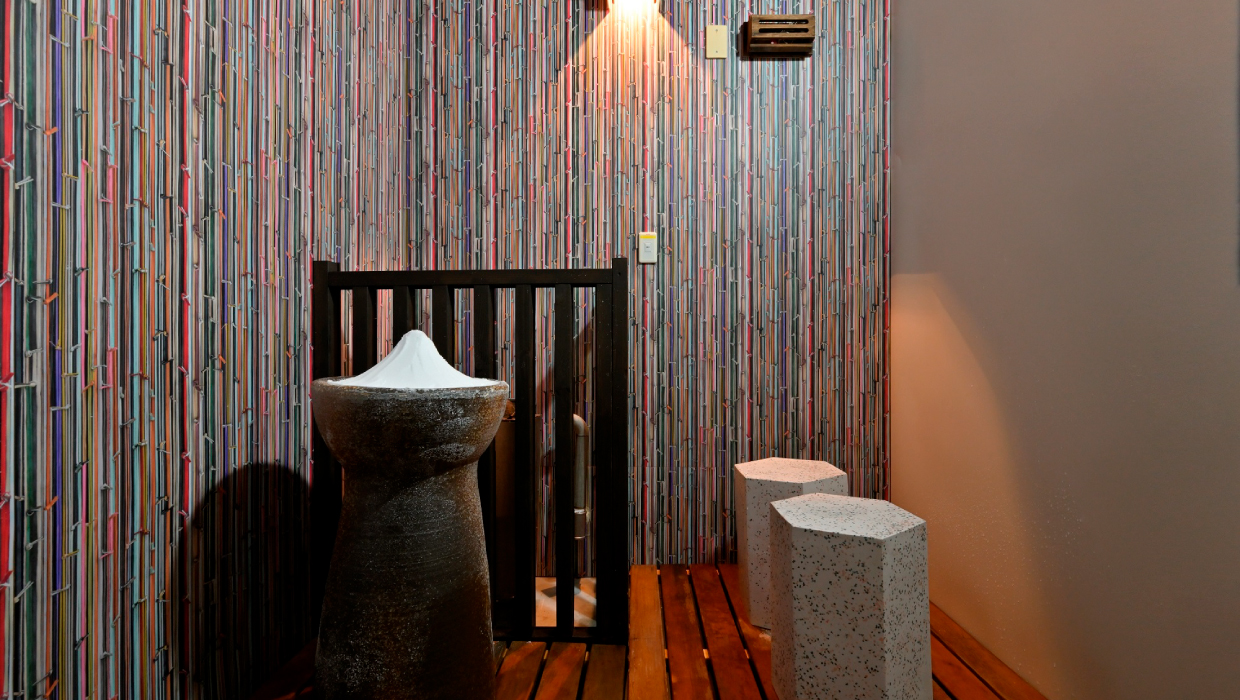 Salt sauna
SALT SAUNA
Salt sauna which enjoys by sipping salt in the body. The perspiration action of salt sheds waste of the body to urge disinfection and cleaning of the skin surface.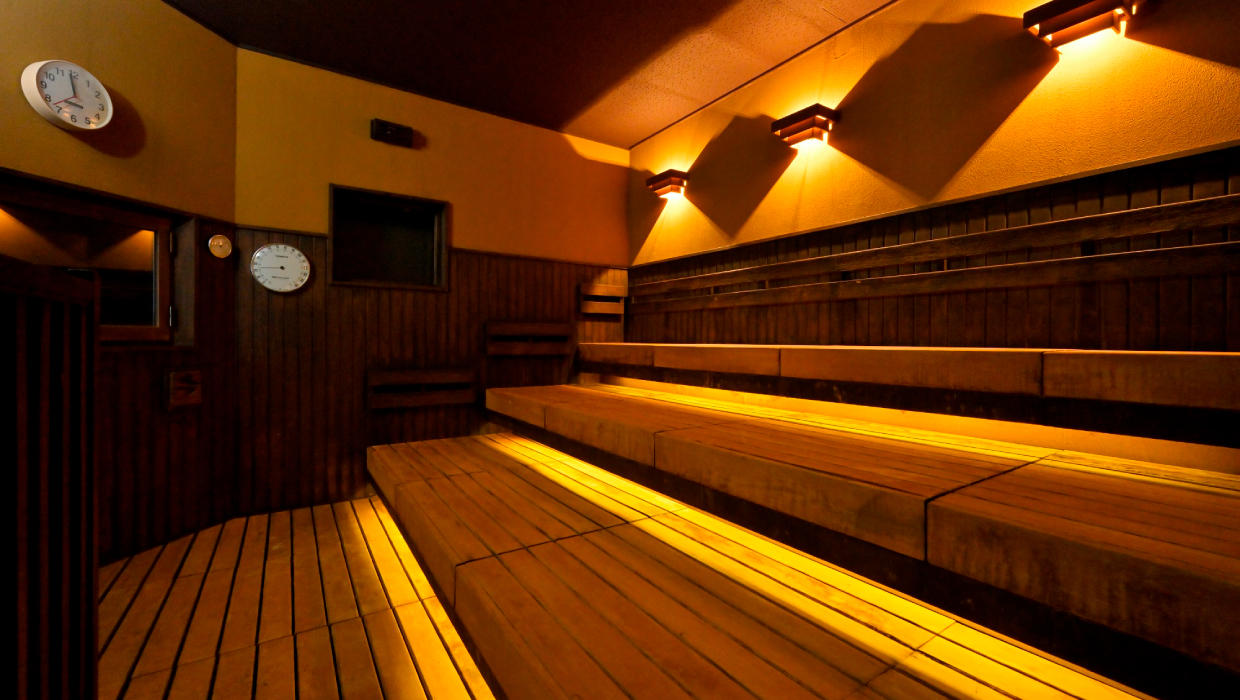 Stadium
sauna
STADIUM
SAUNA
Sauna facility with sauna stove. Because the seat is spacious with three steps, the feeling of relaxation is also a perfect score.
~ Open-air bath ~
The outdoor bath is wide, and the opening feeling is also a thing.
Please enjoy the exhilarating hot water while feeling the sea breeze in the two outdoor baths Open-air bath "SAWA" and Open-air bath "TANADA" facing the sea.
Relax and soak in the hot water, please enjoy the Setouchi time to your heart's content.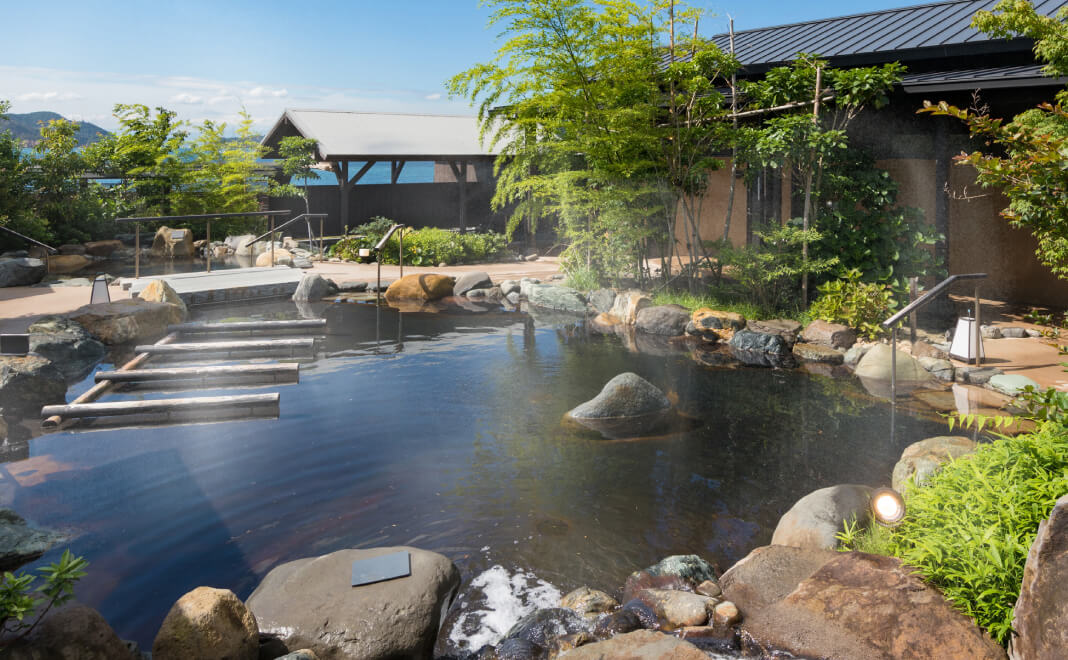 ~Inside hot spring~
There is hot bath by the clean water, natural hot spring of the low temperature bath in inside hot spring.
Because the hot water of Tamanoyu is a high quality salt water, we recommend that you take a bath of 'Atsume (hot water)' for people with weak skin.
Also, those who are not good at high temperature should enjoy bathing with "Tepid (natural hot spring)".